LED Ticker - A LED Ticker Programming Tool
LED Ticker is a tool for programming LED ticker bars using a RS232 serial connection under GNU/Linux. Should work without major changes on almost all other Unices, too.

Device Support
LED Ticker has been created for the Lunartec LED Lauflichtleiste 7x50 sold by the German hardware/software/etc. supplier PEARL Agency in Germany, Austria, Switzerland and France.
As the PEARL own brand Lunartec seems to be OEM-reselling this product, it is very likely this program will work for other devices, too. Please report any success with other devices to: cru [at] zodia [dot] de
If you are a manufacturer/supplier of a compatible or similar device and want your device being listed here resp. LED Ticker to support for your device, please contact me via the EMail address shown above.
Screenshot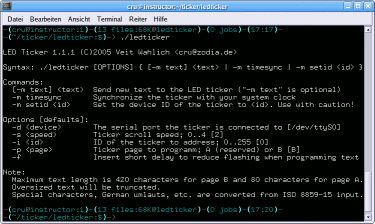 Demo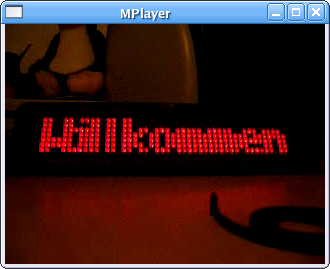 This video shows the Lunartec LED Lauflichtleiste 7x50 in action after it was programmed using LED Ticker 1.1.
Copyright/License
LED Ticker ©2005 Veit Wahlich <cru [at] zodia [dot] de>, released as free (libre) software under the terms of the GNU General Public License, version 2.
The author disclaims responsibility of any damage or harm caused directly or indirectly by usage of this software. Use only at your own risk.
Download
The following releases are available:
Links
Boris Neubert has modified the script for one of his projects to accept text input through stdin. Although the same behavior can be achieved by using the "xargs" command from the findutils (at least I used it this way), you might be interested in his patched version of the program.